FOR IMMEDIATE RELEASE: October 20, 2017
CONTACT: Daniel Schuman, policy director, 240-237-3930, [email protected]

Progressive activists from 18 organizations call for sweeping fixes to House surveillance bill
Washington, D.C.—Today, a coalition of 18 organizations coordinated by Demand Progress Action launched a grassroots campaign calling on Congress to substantially improve the "USA Liberty Act," H.R. 3989, or instead support strong reform legislation like the "USA RIGHTS Act," set for introduction by Sens. Paul and Wyden early next week.

The launch of DontLetTrumpSpyOnUs.com, the campaign's website, adds to the growing pressure from progressive groups calling on Congress to oppose reauthorization of one of the most expansive and unaccountable mass surveillance laws in American history absent meaningful reform. Anything less is to grant the Trump administration tremendous power over the privacy of every American.

On its introduction in the House, the USA Liberty Act contained major shortcomings, all of which empower the Trump administration to spy on Americans without appropriate limits or public recourse. It extends Section 702 of the FISA Amendments Act of 2008 without requiring the Trump administration to get a warrant. It also fails to end "about" collection, provide notice when intelligence information is used in criminal and other proceedings, or produce a reliable count on how many U.S. persons are being surveilled.

By comparison, the USA RIGHTS Act is expected to end backdoor searches, permanently ban "about" collection, and provides notice when intelligence information is used in criminal proceedings. It also is expected to contain a number of additional important provisions, including strengthening transparency around FISA court opinions, preventing solely domestic surveillance under Section 702, and much more.
Daniel Schuman, policy director at Demand Progress Action said:
"We appreciate the work done by the House Judiciary Committee in attempting to reach a compromise on Section 702, but we cannot support the USA Liberty Act as introduced."
"We urge members of Congress to improve it by including a full backdoor fix, which has passed the House of Representatives twice, permanently codifying the end of 'about' collection, and adding safeguards against the secret use of Section 702-evidence in criminal and other proceedings. Demand Progress Action urges members of Congress to support the more substantial reforms contained in the USA RIGHTS Act, set for Senate introduction by Sens. Paul and Wyden next week, and urges incorporation of its provisions into the USA Liberty Act."

Participating organizations include (in alphabetical order) are:
18 Million Rising, American-Arab Anti-Discrimination Committee, Center for Media Justice, Color of Change, Common Cause, Daily Kos, Defending Rights & Dissent, Demand Progress Action, Democracy For America, Free Press, Million Hoodies, People's Action, Presente.org, Restore the 4th, RootsAction, Sum of Us, The Nation, and Win Without War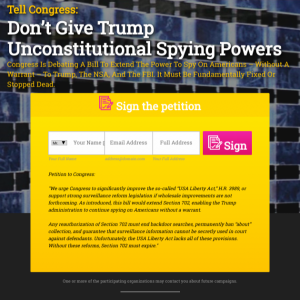 These organizations join Demand Progress Action in urging Congress to improve the USA Liberty Act. Here's why:
It doesn't stop backdoor searches, which is when the government searches through the hundreds of millions of communications it collects yearly for information on Americans and people on U.S. soil – all without a warrant. Instead, the bill okays accessing and sharing this information for foreign intelligence purposes, a loophole that swallows the rule.
It fails to permanently end "about" collection, an illegal practice the NSA says they've stopped that allows for warrantless spying on Americans' communications that merely mention an intelligence target. Collections should be limited to communications that are "to" or "from" a target. USA Liberty only prohibits this type of surveillance for 6 years, and then reauthorizes it without further Congressional action.
It doesn't prevent the government from secretly using surveillance information in court against defendants. Despite tens of thousands of searches by the government of Section 702 data, only a handful of defendants have ever received notice of it – and only after the Department of Justice was caught misleading the Supreme Court about its practices.
It doesn't stop Section 702 information from being used in investigations and prosecutions that have nothing to do with national security, because the bill doesn't place any meaningful limits on when and how data collected under Section 702 can be shared with other agencies or used in court.
It doesn't provide for real transparency around what the government is doing. The bill adds some transparency measures but doesn't enforce them, giving the NSA leeway to ignore transparency reports to Congress, and only a small amount of information would trickle out to the public.
###