FOR IMMEDIATE RELEASE
CONTACT: Daniel Schuman, policy director, Demand Progress, 240-237-3930
WASHINGTON, D.C.— Today Demand Progress called on Rep. Adam Schiff, (D-CA), ranking member of the House Permanent Select Committee on Intelligence (HPSCI), and other HPSCI Democrats to denounce racist propaganda that HPSCI has repeatedly circulated in recent weeks.  (Examples included below.)
This comes as Republicans on HPSCI, President Trump, and Rep. Schiff try to jam through S. 139, the FISA Amendments Reauthorization Act, which would expand the government's ability to spy on Americans without a warrant, including when there is no evidence of wrongdoing and in cases that do not involve national security.
In contrast, Demand Progress and allied organizations, along with allied congressional offices, have disseminated fact sheets (examples also included below) that describe how the mass surveillance authorities in question can be exploited to target innocent Americans who are members of racial, ethnic, and religious minority groups.
The following statement can be attributed to David Segal, executive director of Demand Progress: "HPSCI ranking member Adam Schiff and his Democratic colleagues must separate themselves from forces that seek to exploit racial bias for propagandistic purposes — and to entrench and expand a mass surveillance program that represents a disproportionate threat to racial, ethnic, and religious minority communities. They must denounce the materials being circulated by their committee, and vote against the FISA Amendments Reauthorization Act, which seeks to expand the president's ability to spy on Americans without warrants.
"The materials being circulated by HPSCI are deplorable, fear-mongering, and wildly cynical. They assume that both constituents and fellow members of Congress are too stupid to see through this race-baiting propaganda. Americans, no matter their race or creed, are endowed with unalienable rights, including the right to privacy. That is what the fight over Section 702 of the Foreign Intelligence Act is about — not which side can stoke the most fear with pictures of Muslims and bombs."
HPSCI and Rep. Schiff specifically oppose the USA RIGHTS amendment to S. 139 because they oppose requiring the government to obtain a warrant before specifically searching for Americans' warrantlessly collected information, with appropriate exceptions. Obtaining a warrant for Tsarnaev, whose attack was tragically not thwarted by Section 702, would obviously be trivial, and the emergency exceptions within the USA RIGHTS amendment would provide for instances where obtaining a warrant would not have been possible. Instead of debating the merits, HPSCI is fear-mongering with misleading scare sheets that rely on unchecked paranoia, racism, and ignorance. Demand Progress has endorsed the USA RIGHTS amendment, opposes the underlying bill, S. 139.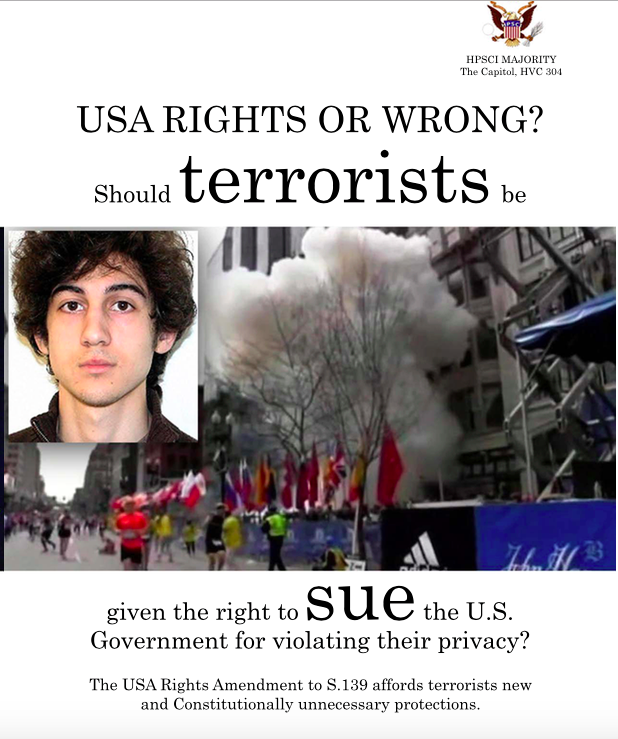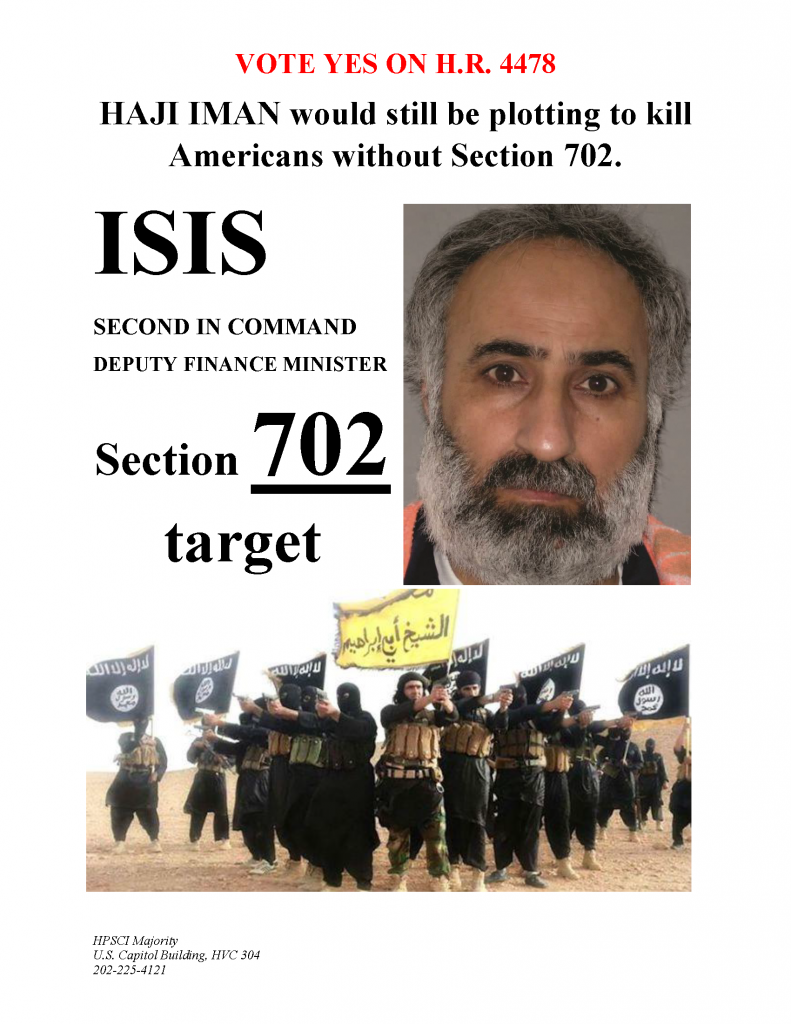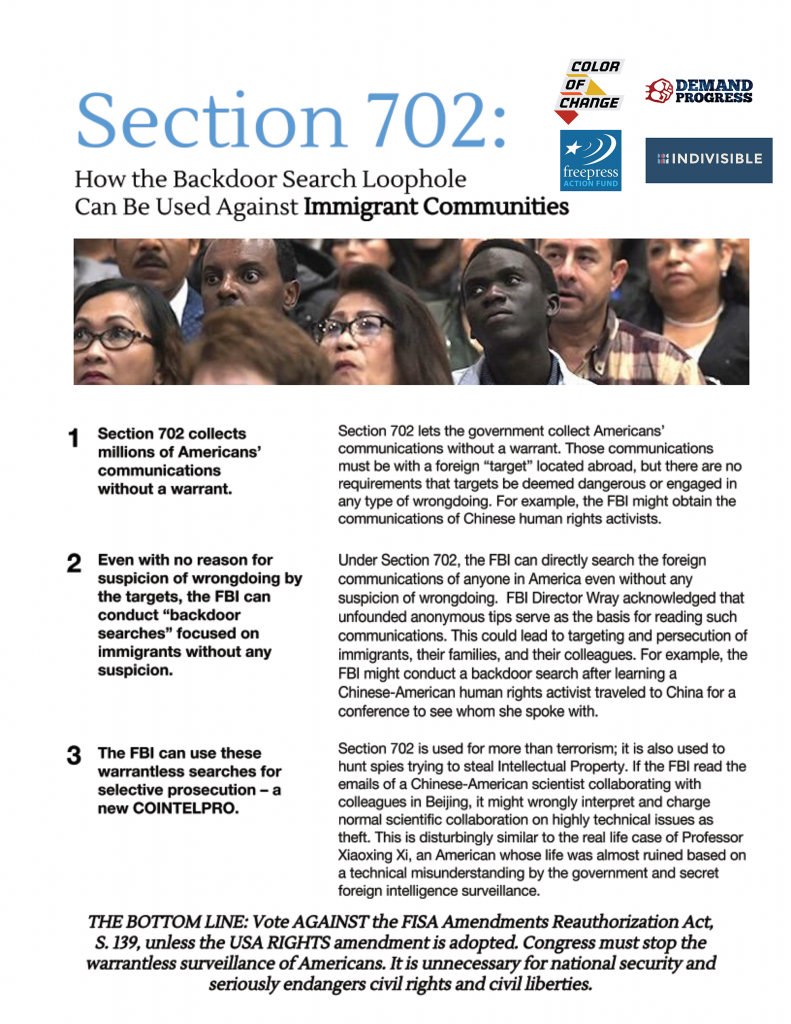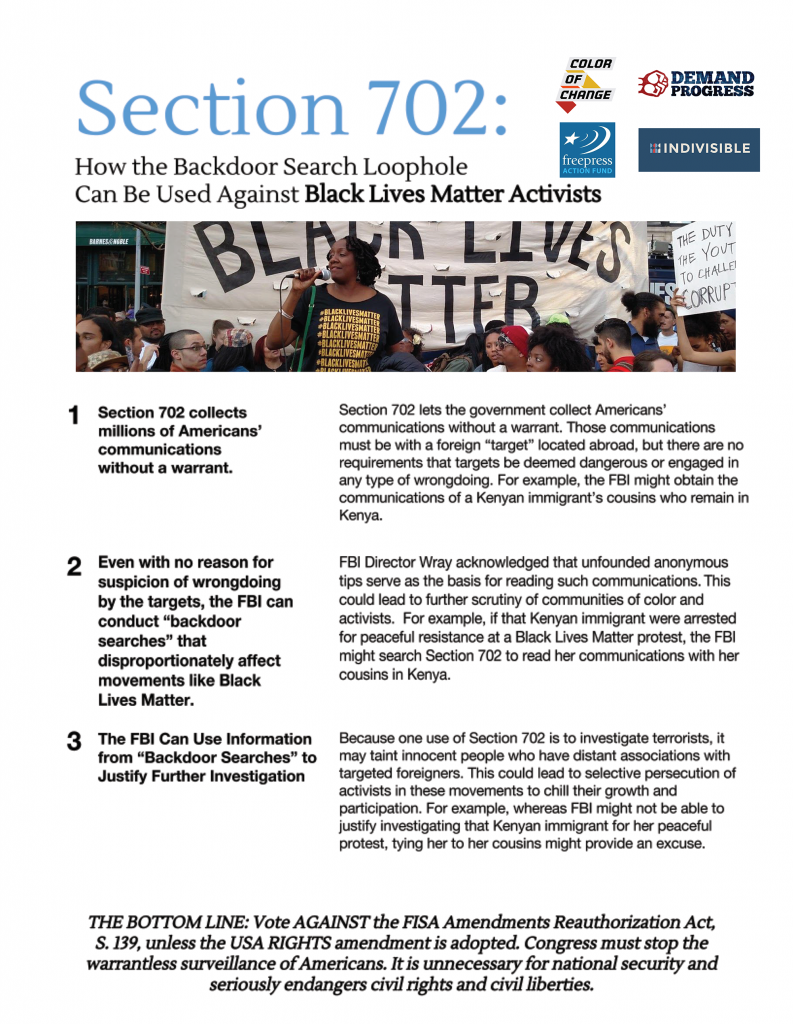 ###